In March 2011, the Board of Directors of MTTA, Inc. approved the start of a new program to be designated "The Master/slave History Program." This new program will research and document various aspects of the history of the Master/slave community in the Twentieth century to the present time.
The first stage of "The Master/slave History Program" will be the creation of a modern chronology of what has become known as the Master/slave community since the foundation of MAsT in 1988. This chronology has been researched by MTTA President, Master Taíno, using resources of the Leather and Master/slave communities.
The chronology listed here is just a beginning. MTTA will continue to add more historical information as it is gathered. Anyone with information related to this project is encouraged to submit it to: mtta@cox.net.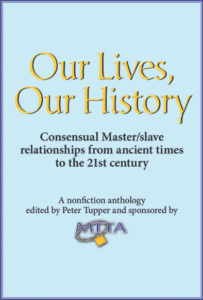 Master/slave History Book
This program culminated in 2016 when MTTA published "Our Lives, Our History: Consensual Master/slave relationships from ancient times to the 21st century".  
This book is a nonfiction anthology edited by Peter Tupper, published by Perfectbound Press and sponsored by MTTA.  The late slave david stein, owner of Perfectbound Press, was the project advisor to MTTA.
Master/slave History Program Timeline